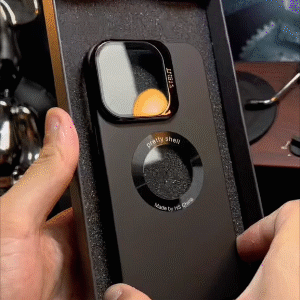 Better protection of mobile phone, convenient for your life.
Introducing our latest phone case designed for iPhone 14/13/12, featuring a unique "leak-proof" screen protector and a back support stand. This case is made of premium matte polycarbonate material, which is known for its durability and resistance to scratches and impact.
The "leak-proof" screen protector is designed to leave the logo of your phone exposed, giving your phone a stylish and modern look. The screen protector is also effective in preventing scratches and cracks, providing all-round protection for your phone.
The back support stand is cleverly integrated into the design of the case, allowing you to easily prop up your phone to watch videos or make video calls. The stand is sturdy and reliable, so you can rest assured that your phone is secure and stable.
Finally, the case is equipped with a camera lens protector that can be opened and closed, protecting your phone's camera lens from dust, dirt, and scratches. The protector can also be used as a support stand, providing you with even more convenience.
Overall, our iPhone 14/13/12 phone case is the perfect accessory for your phone. It offers full protection, convenience, and style, making it the ultimate choice for any smartphone user.